We are excited to announce the release of our next release for production use, featuring:
Version numbers changed to semantic (a.b.c), latest major release is now version 2.3.0
New release branches of LTS (Long Term Support) and Current
Support for Flussonic Media Server
Support for Clappr Media Player
Additional Stream Targets support for Youtube, Periscope, Twitch, Shoutcast, Icecast & Custom RTMP
Reseller limitations for Stream Targets
HTTPS / SSL Proxy for Shoutcast 2.5.x streams
DJ Manager support for services using sc_trans v2 AutoDJ
Removal of older Fluid theme
Feature Highlights
Semantic Versioning
The latest version is now version 2.3.0.
Version numbers now follow the following format: Major.Minor.Patch, for example 2.3.0 where 2 is Major, 3 is Minor and 0 is patch version.
Major Version: includes non-backwards compatible changes
Minor Version: includes feature and functionality changes
Patch version: Bug & security fixes
Release Branches (LTS & Current)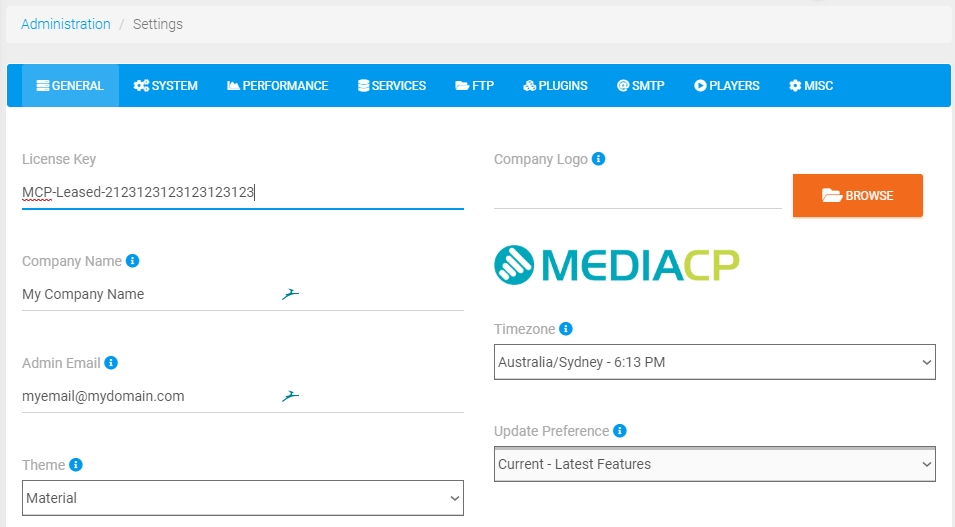 In order to provide a more stable version of our software, we are introducing release branches of LTS and Current.
The LTS release branch includes the most stable version of the software, and will be the default version installed to your MediaCP. It will continue to receive maintenance patches until a new Current version is released; where the existing Current will become LTS.
The Current release branch includes the latest features, however may experience limited real world testing.
Existing customers can upgrade to the new Current release following our Upgrade Guide.
Flussonic Media Server
We are excited to announce the immediate support of Flussonic Media Server with MediaCP 2.3.0 (Current).
Flussonic Media Server supports:
Live, Ondemand & TV Station Streaming
Video Transcoding
nDVR Support
Stream Targets
Read more about Flussonic Media Server
New Stream Targets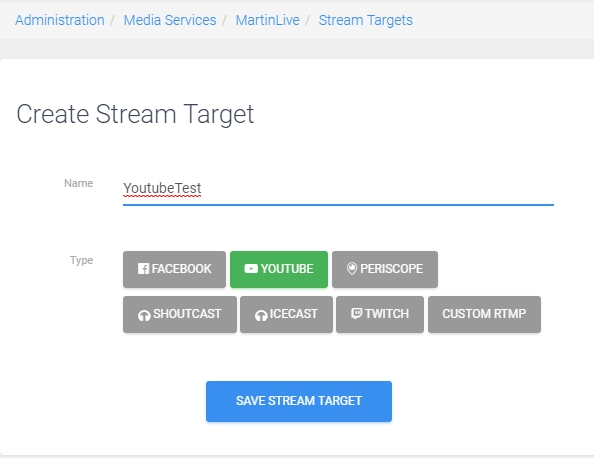 After receiving a lot of support on our Features Trello Board, we have added support for additional Stream Targets including Youtube, Periscope, Twitch, Shoutcast, Icecast & Custom RTMP.
Release Notes
Story	MCP-216	Add support for Youtube Stream Target
Story	MCP-251	Add support for Periscope Stream Target
Story	MCP-377	Add support for Twitch Stream Target
Story	MCP-414	Add support for Custom RTMP Stream Targets in WSE
Story	MCP-438	Add Shoutcast 1/2 & Icecast Stream Targets
Story	MCP-415	Change Stream Target drop down to checkbox with Brand Logos
Story	MCP-358	SSL Streaming Proxy for Shoutcast 2.5
Story	MCP-304	Flussonic Media Server support for Video Streaming (Live, TV, Ondemand etc) including Domain Lock, DVR, and Stream Targets and Transcoder support
Story	MCP-398	Add dj metadata to Shoutcast 2 when streaming live through liquidsoap
Story	MCP-419	Add options to restrict which Stream Targets (FB,YouTube,RTMP,etc) can be used
Story	MCP-422	Add DJ Manager Support for sc_trans v2 services
Story	MCP-462	Implement Clappr player
Story	MCP-479	Upgrade PHP to 7.1.25