Wowza Streaming Engine Control Panel
Wowza Streaming Engine™ is robust, customizable media server software that powers reliable streaming of high-quality video and audio to any device, anywhere. Whether deployed in the cloud or on-premises, leverage the powerful components of Wowza Streaming Engine and tailor your streaming workflows with security and confidence.
Order Now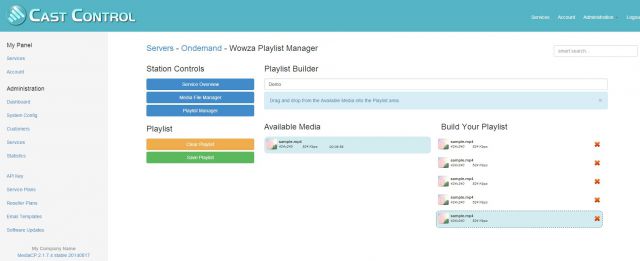 Wowza Streaming Panel Features
Live Video Streaming
Low Latency Live Video Streaming
Live Audio Streaming
Ondemand Video Streaming
Broadcast your own TV Station
Shoutcast & Icecast RTMP/RTSP Support
What other features are supported?
The MediaCP Wowza Edition supports the following features:
Shoutcast Relay, Live Streaming & Ondemand Streaming Applications.
FTP Integration with Ondemand Streaming.
Integrated Flash Player.
WHMCS Integration for complete billing automation.
Real-time listener statistics including.
A list of each connected ip, country of origin & protocol.
Top 30 Countries (based on listener amounts).
GeoIP Listener plotted Google Maps.
Uplink & Listener Graphs using RRDTools.
Max Users (Simultaneous Connections) & Bitrate Limiting.
Frequently Asked Questions
Does the Media Control Panel include a Wowza Media Server license?
NO. You must purchase a license seperately from www.wowza.com
Do you offer an online demo?
Yes! Checkout our online demo here
Is there a free trial available?
We offer a 30 day money back gaurantee if you are not happy with our product.