Flusonic Control Panel
Video Streaming with the power of Flussonic Media Server.
Flussonic Media Server Features
Flussonic Media Server is a reliable solution for video transport of any kind and complexity. You can organize a live video broadcast with IP cameras, provide massive on-demand video access, embed a video streaming module into your project (intercom, webinar platform, mobile device video recording, etc.).
Stand-alone control panel
Linux Support – CentOS & Debian (Windows not supported)
Live, Ondemand & TV Station Automation
nDVR Support
Transcoding Support
Multiple Video Players VideoJS / JWPlayer / FlowPlayer & Clappr
HTML Embed Code to deploy video players to your website
Stream Publishing – Facebook, Youtube, Periscope, Twitch etc.
GeoIP Google Maps Integration
Stream Publishing – Facebook, Youtube, Periscope, Twitch etc.
Media File Manager w/FTP Support
WHMCS Billing System Integration
Video Streaming Features
VideoJS / JWPlayer / FlowPlayer / Wowza Player
Live & Ondemand Video Streaming
Broadcast your own TV Station with Flussonic server-side playlists
Dynamically updated ondemand playlists
nDVR Support
Transcoder Support
Publish your stream to Facebook, Youtube, Periscope & Twitch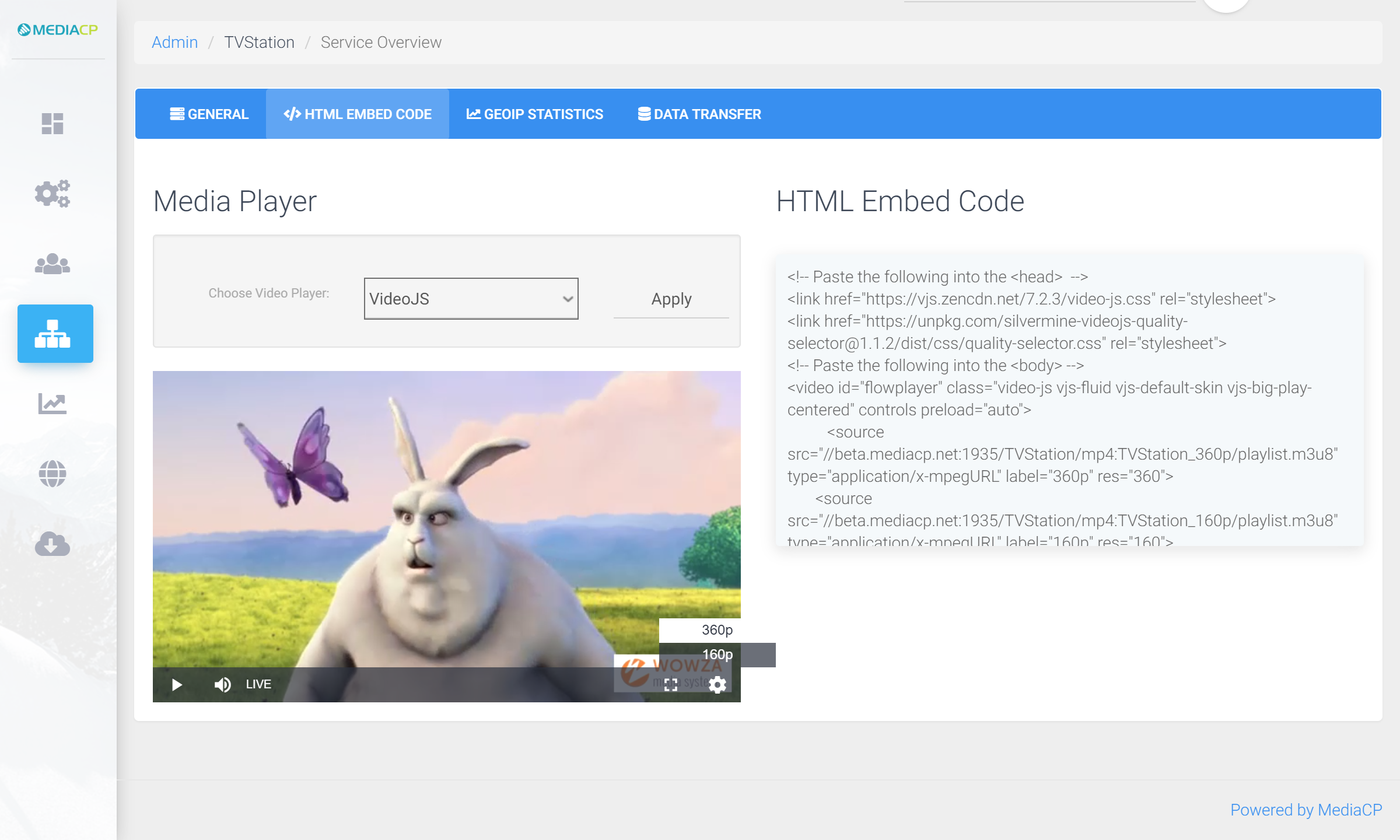 Video Transcoding & nDVR Support
Enrich viewers experience with Video Transcoding through Flussonic Media Server. The HTML5 compatible media players offer full support for Quality Selection and Adaptive Bitrate Streaming.
Adaptive Bitrate Streaming (ABR) is a technique used to detect a users bandwidth and CPU capacity in real time and automatically adjust the quality of the media stream accordingly.
Dynamic Ondemand Playlists
Dynamic playlists allow your customers to configure their video playlists from the MediaCP and automatically update on their website in realtime- with no changes to code.
This powerful feature means your customers only ever need to apply embed code to their websites only once.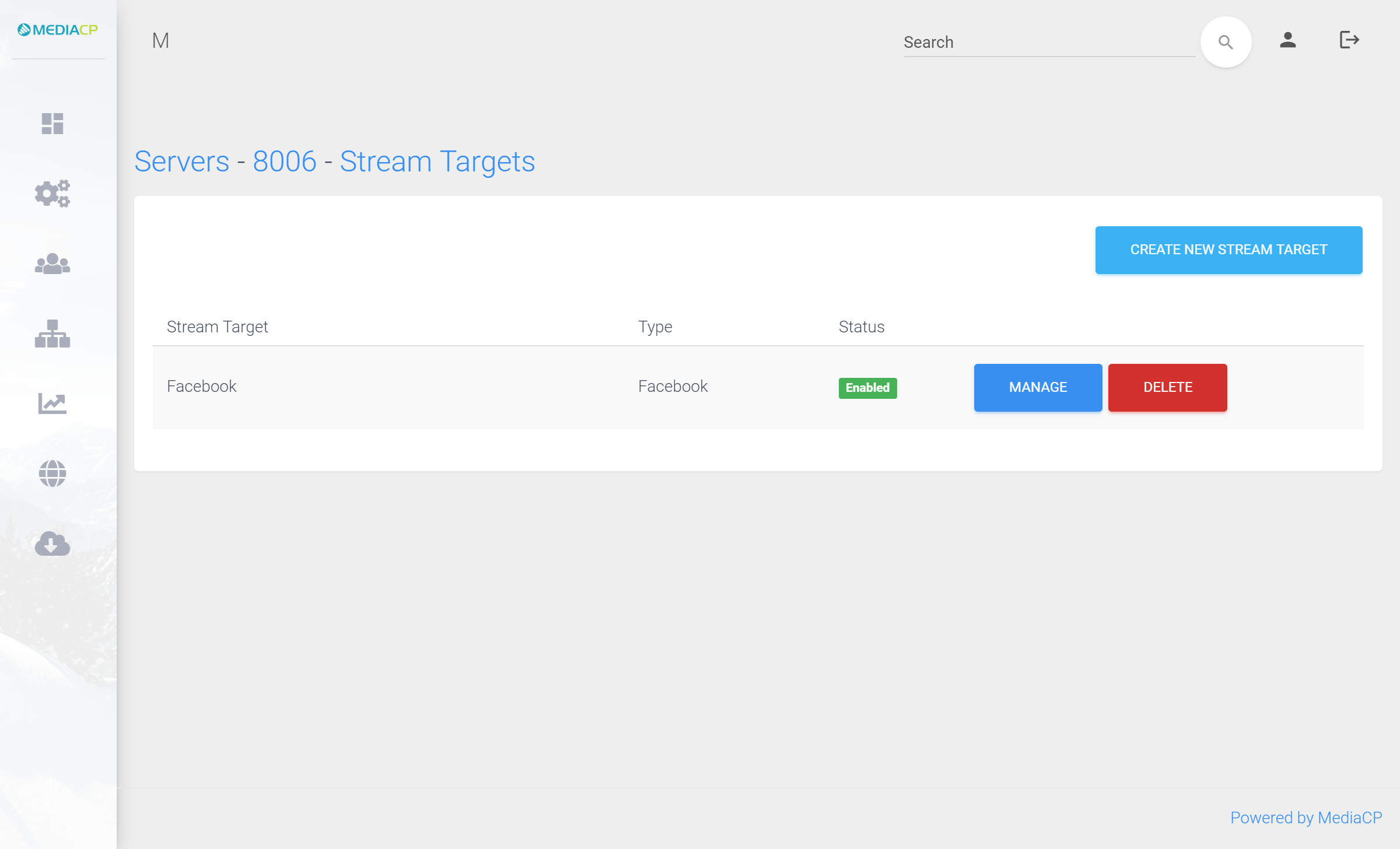 Stream Publishing
It is possible to publish your Live Streaming services to Facebook, Youtube, Periscope & Twitch using our Stream Targets function and Flussonic' RTMP Publishing feature. 
What other features are supported?
The MediaCP Premium supports the following features:
Live Streaming, Ondemand Streaming & TV Station Applications.
Integrated Media Players.
WHMCS Integration for complete billing automation.
Max Users (Simultaneous Connections) & Bitrate Limiting.
FTP Integration with Ondemand Streaming.
Real-time listener statistics including.
A list of each connected ip, country of origin & protocol.
Top 30 Countries (based on listener amounts).
GeoIP Listener plotted Google Maps.
Statistics & Reporting
Frequently Asked Questions
Does the Media Control Panel include a Flussonic Media Server license? NO. You must purchase a license seperately from www.flussonic.com
Do you offer an online demo? Yes! Checkout our online demo here
Is there a free trial available? We offer a 30 day money back gaurantee if you are not happy with our product.