Automate and manage all your audio and video streaming services using our easy install web-based control panel.
Stand-alone Control Panel
100% automatic installation.
No need to install any other software.
Automate your OTT Media Services with a leading billing control panel.
Create resellers and provide extensive plans with our extremely configurable reseller plan editor.
Support for English, Dutch, German, Portuguese, Italian, Spanish, French, Czech & Polish languages.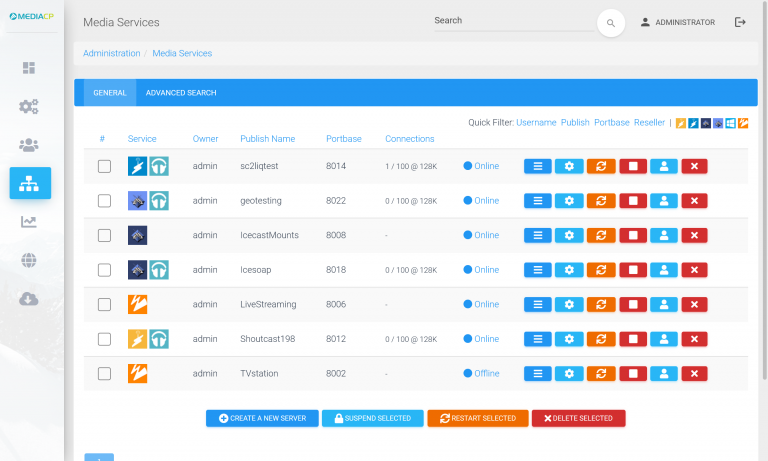 News
MediaCP 2.9.4 is a maintenance release that includes a critical fix for General Rotation AutoDJ
Read More »
MediaCP is a control panel who is still alive, there are new updates (sometimes even to much) with new futures. It is more alive then for example Centovacast.
MediaCP panel offer a complete streaming solution for streaming providers. We offer All services, Radio stations with or without autodj (Icecast KH), TV Stations with Wowza Streaming Engine. We also offer Dedicated Servers with Media CP ready for customers that want to sell streaming services.
It is an easy, attractive and very competitive system to offer customers with high demand for audio and video services.
We use MediaCP because of the great support team and because it gives my company the ability to build solid streaming solutions for our clients.
We use MediaCP for the convenience of configuration, and quality of service it offers, in addition to having several options, not only video, but also audio, 2 in 1.

SHOUTCAST – ICECAST – WOWZA STREAMING ENGINE - FLUSONNIC MEDIA SERVER
The MediaCP is a feature rich HTML 5 responsive audio & video streaming control panel for online Radio, Video Streaming & TV Station management all in one easy to use web control panel. Our software supports the major streaming audio and video platforms including Shoutcast, Icecast, Icecast KH, and Wowza Media Server.