MediaCP 2.7 is a new feature release available on the Current branch and the Stable / LTS branch.
All changes from MediaCP 2.6.6 are also included in this release and we recommend you read the release notes for 2.6.6 also.
White-labelled Facebook Stream Target
The "Published by MediaCP" is now replaced with a generic "Stream Publisher" which is linked to a generic website. This is available to only customers with the "No Branding" option on their panel.
Please be aware that this change will only be enabled after recreating your Facebook stream targets.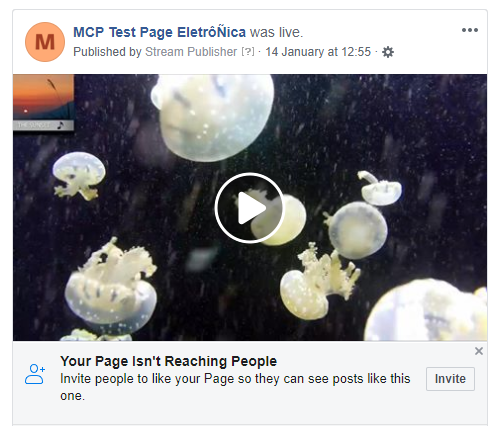 Wowza Streaming Engine Packetisers change
Copied from 2.6.6 release notes
Each Playback type or "packetiser" that is enabled on each Wowza application uses an amount of CPU usage, especially MPEG-DASH. Under advise from Wowza team themselves, we have disabled the following uncommonly used packetisers by default for all new services:
MPEG-DASH
Adobe HDS
Microsoft Smooth Streaming
If your customer requires one of these technologies, it can simply be enabled in the Playback types within MediaCP.
We also recommend that you run the following script on your server to disable these 3 packetisers across all your services, however to respect existing customer settings we have not applied this automatically:
/root/init reset-packetisers
Automated Backups
It is now possible to configure Automated backups from Admin -> System Config -> Backups.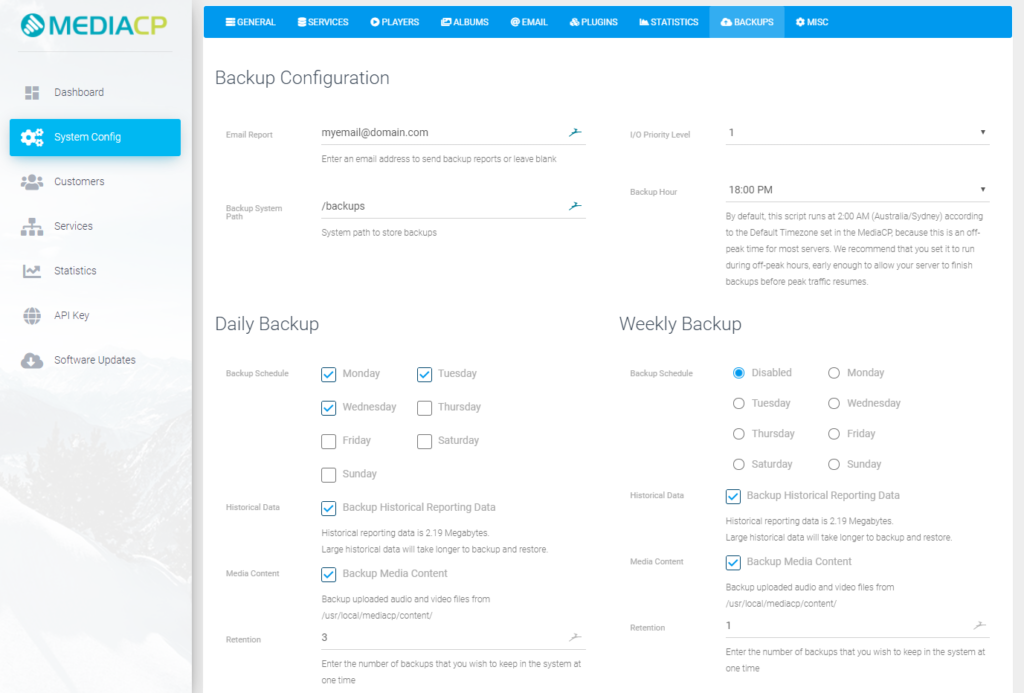 New Shoutcast & Icecast Widgets

We have redesigned the "Player Links" page to now incorporate both Player Links and Widgets.
The new widgets system will allow for a number of new widgets including:
Stream Status – Online or Offline – Basic text output
Now Playing – Basic text output
Now Playing with Cover Art
Connections – Basic text output
Bitrate – Basic text output
Recently played – basic text output
FTP services can now be connected to on the default port (2121) using explicit TLS. This is not enforced at the moment and no further information is provided in the control panel at this time. A notice will be added with the next minor release 2.6.1 that advises to connect with explicit TLS.
Redesign of Reseller Plans
Full release notes
Features
Provide additional 'portbase' template variable direct to WHMCS Email Templates
Automated Backups
Provide white-labeled Facebook application
Add Stream Targets options into WHMCS module
General improvements to Audio station javascript widgets
Tidy up reseller plans page
Deprecate CDS service
Add # Mountpoints and # AutoDJ Sources into WHMCS plugin
Create stream name groups with transcoder templates
Improvements
Display 'How to install SSL' notice on dashboard when no SSL configured
Ability for API to be enabled/disabled for customer accounts with global settings default option as well