MediaCP 2.13 is a Major Upgrade that offers new features to the software with a focus on Video and Branding customisations.
Nginx-Rtmp Hybrid TV Station
A TV Channel provides capabilities to upload video on-demand content and create a 24×7 broadcast that looks and feels like a live broadcast. The TV Channel feature also boasts capabilities to switch between live and user generated content at any time. Powered by Liquidsoap, our solution for NginxRtmp does not rely on HLS discontinuity hacks and correctly stitches together video content to produce a stable single professional quality broadcast with greatest device compatibility. 
Stream Overlay for Flussonic & NginxRtmp
Upload any image or logo to be directly stitched into the broadcast for display on your website, socials (Stream Targets) or remote destination.
Stream Overlays use transcoding to produce the broadcast with your logo embedded, and this will use additional CPU on your system. We've now made the feature simpler to use, without requiring selection of any transcoder profiles to use the feature (it will still use transcoding resources to achieve the result).
VAST Advertising for Video Channels
Monetization is getting paid for the broadcasts you publish online. The more people that watch, the grater your earnings. Broadcasters can generate revenue from their broadcasts by inserting ads at the beginning of the broadcast (pre-roll) and during the broadcast (mid-roll). You can integrate a wide variety of ad servers and ad networks directly with your MediaCP software. Advertisements are displayed Client Side only when using the Video Player and as such advertisements are not published to Stream Targets such as Facebook or Youtube.
The VAST Advertising feature is a Premium feature available for Customers with an Unlimited License.
You can get started and preview the feature with Google IMA Sample Tags.
Traditionally our software provides an automatic integration with Facebook via our own Facebook Apps that we manage. When using our Facebook App to publish video, viewers will see "MediaCP" or our whitelabelled brand name in the "Published by" (screenshot below).
It is now possible for customers with an Unlimited license (with no branding) to configure your own Custom Facebook App with your own branding to use with the MediaCP.
Review our Custom Facebook App Documentation for information on how to get started.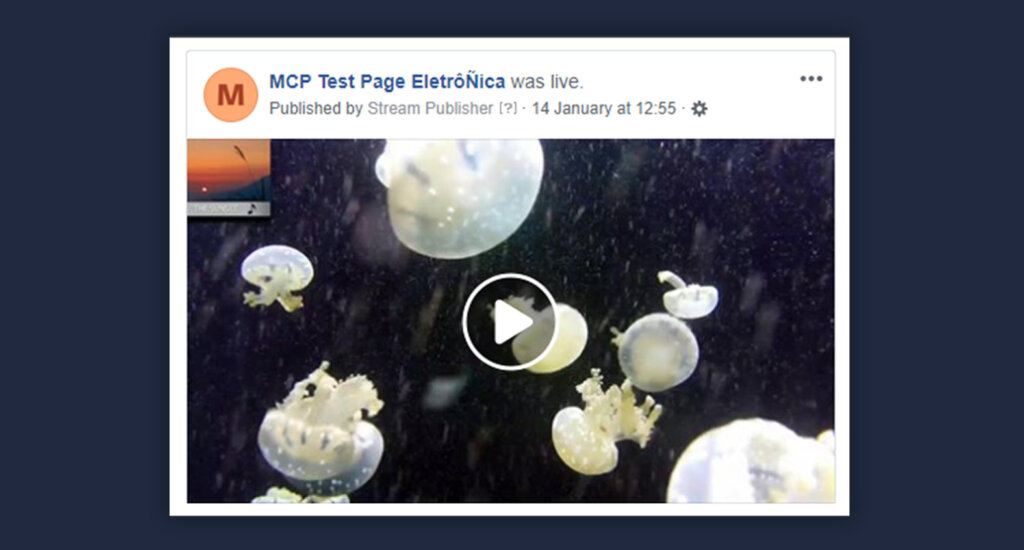 Upload Custom Login Background
Control the design of your Media Control Panel by easily uploading a custom login background from System Configuration. The uploaded image will be automatically converted to an optimised image for quick loading times.
Upload Custom Start Page Background
Icecast DJ accounts without AutoDJ
Icecast services now include the DJ Manager features without requiring Liquidsoap. Users with Icecast KH services can login directly using either the SHOUTcast or Icecast protocols while Icecast 2 must use only the Icecast protocol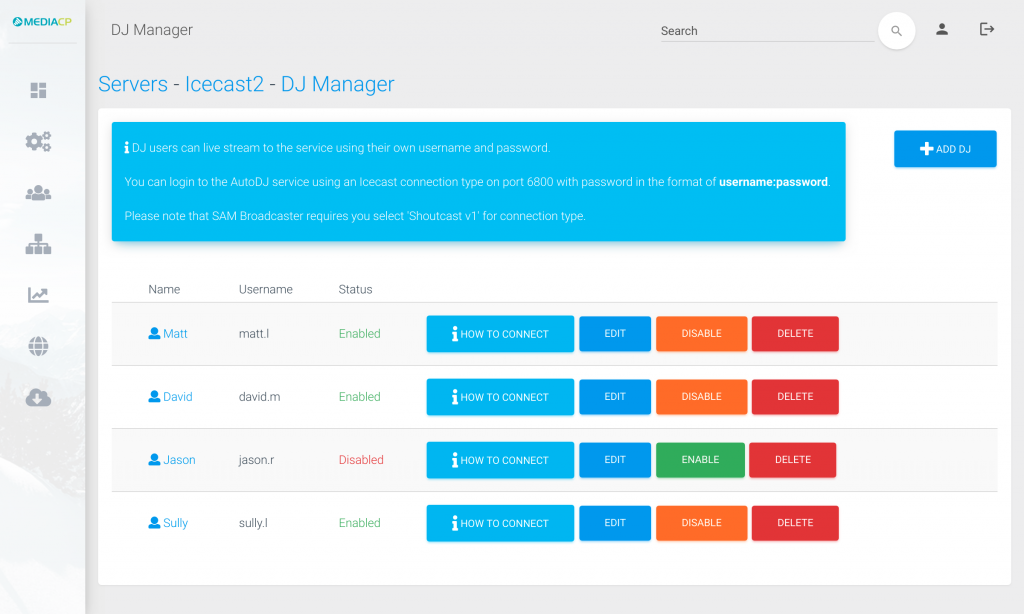 Nginx-Rtmp now produces frame-aligned transcoding
We've reworked NginxRtmp transcoding and stream publishing and as such it now properly supports frame-aligned transcoding which offers full device compatibility.