The main side navigation has been minimized to provide a greater amount of space to the main focussed content area. The Admin Dashboard has been overhauled with a tonne of useful information such as CPU, Memory & Disk Usages as well as a new Connections & Data rate graph. The Media Services listing page now includes Bandwidth and Storage info in addition to Connections. Finally, User Profile Images have been added with integration with https://gravatar.com/
A Public Page is now available for Video Streaming services similar to Audio Services have already had for quite some time.
AutoDJ Scheduling Loop Option
In previous versions of MediaCP, AutoDJ playlists would loop until the scheduled end time. This would make it difficult to schedule a long track or show without it repeating. With MediaCP 2.12 we've added a new Loop option to solve this problem. Disabling the loop will ensure no more repeated shows.
Audio Media Upload Improvements
Several UI updates now ensure that finished uploads no longer disappear immediately and the history will automatically scroll to the currently uploading or last uploaded track. This makes it much easier to see the success or failure of uploaded files via the drag and drop interface.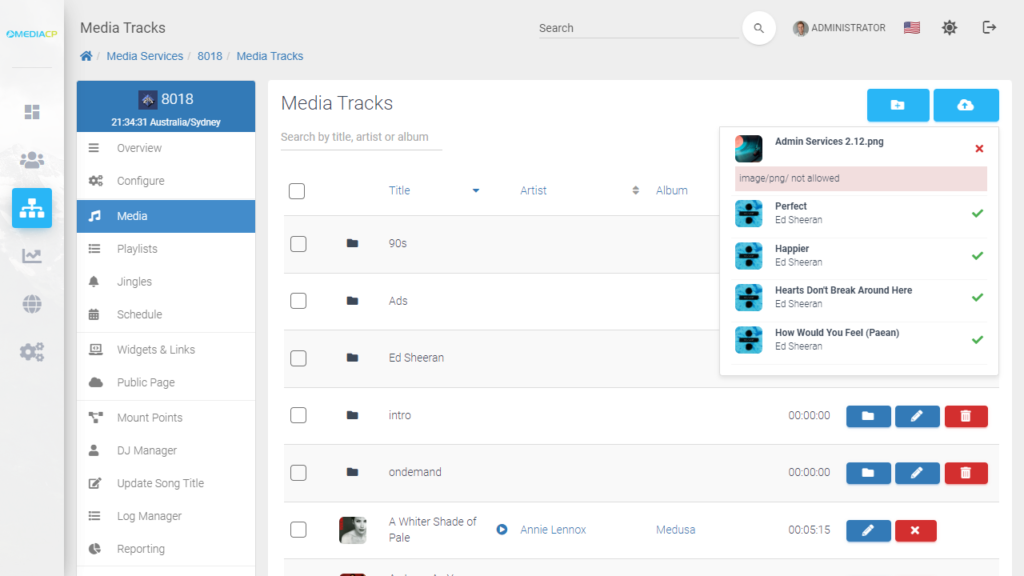 VOD Playlist with Video Selection UI
Icecast Custom XML Configurations
Hide Video Engine Name from Customers