Shoutcast 2 provides a modern HTML5 compatible audio streaming server. MediaCP provides two different versions of Shoutcast 2, we provide version 2.5 and version 2.6.
Your customers can use either the Freemium or Premium version of Shoutcast 2.6
Shoutcast 2.5
DEPRECATED
Shoutcast 2.6

MP3 up to 128Kbps
MP3 up to 320Kbps
AAC up to 320kbps
SSL with MediaCP Proxy
Native SSL Streaming
Shoutcast Premium features become available only after the shoutcast server registers successfully to shoutcast.com YP directory. The shoutcast.com YP directory is quite unstable and our customers often have difficulty with the connection. It can sometimes take several hours for the YP connection to be successful.
This means that HTTPS, AAC and MP3 > 128Kbps will not work until the service has registered successfully.
Please follow the steps below to check you have configured the service correctly.
Step 1 - Check MediaCP & Shoutcast License
Please double check the following settings:
Premium User ID
Premium License Key
YP2 Authentication Hash
Public Server = DEFAULT or ALWAYS *
Advanced -> Version MUST be Shoutcast 2.6+
* Public server MUST be set to default or always so that the YP server connects. Your stream MUST be public to use Premium features.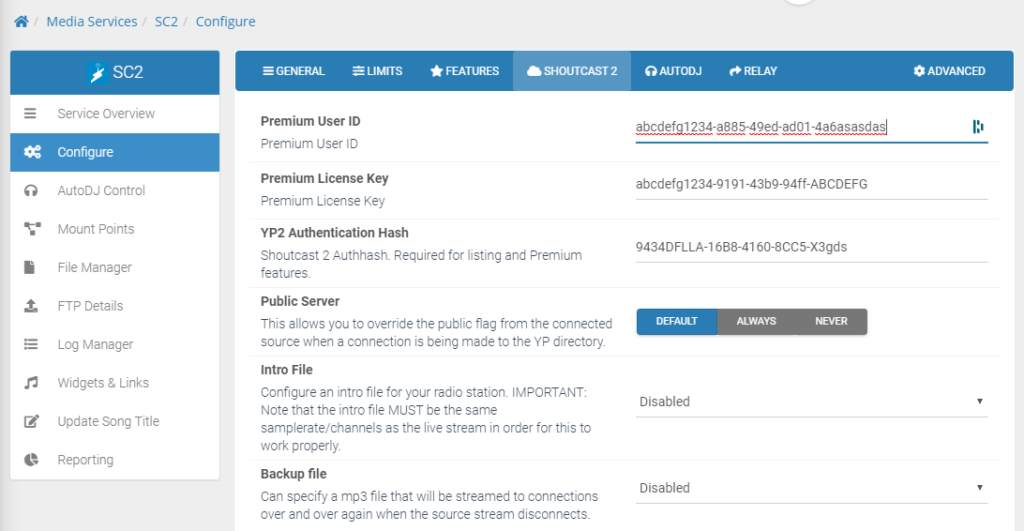 Step 2 - Check changes are applied to shoutcast 2 server
Login to your shoutcast server admin.cgi page at http://yourserver.com:8000/admin.cgi
Please note https:// address will not work with admin, this is a shoutcast 2 server bug.
Select "View" Configuration File
Check licenseid and userid exist, if they do not then you should restart the shoutcast 2 service in the MediaCP.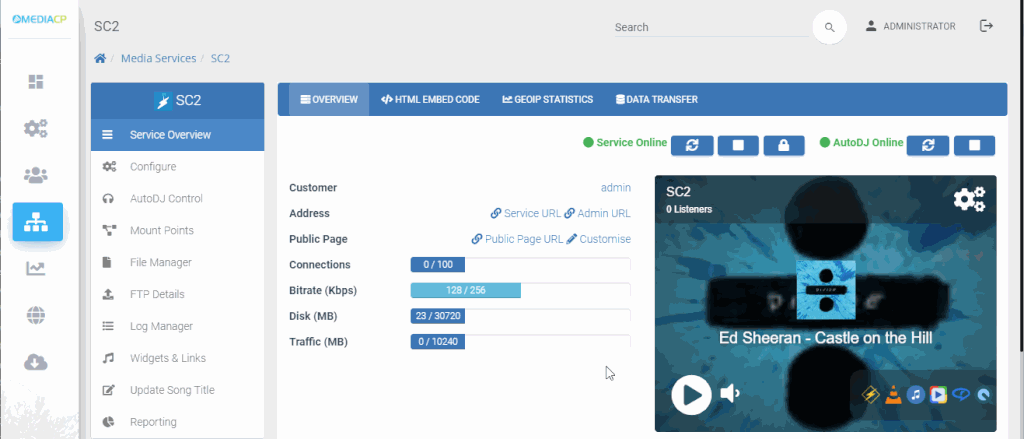 Step 3 - Check YP connection from shoutcast log files
It is very common for a problem to happen with shoutcast.com YP directory website service. In this case you must wait until shoutcast.com service is available again. This can be 15 minutes or many hours.
If there is a problem with the shoutcast.com YP directory then you will see an ERROR in the Shoutcast log file relating to the YP service. The error might be different to below.
If you see this in the log file then there is nothing that MediaCP support can do and you must either wait or contact www.shoutcast.com support for more information.