MediaCP offers support for feature rich stream recording, to record the primary livestream and use the files for later playback.
❌ Nginx-Rtmp ✅ Wowza Streaming Engine ❌ Flussonic
Stream recording must be first enabled as a Service Feature
Your administrator must first enable the Stream Recording Feature from Service -> Configure -> Features tab.
This feature is exclusive to Wowza Streaming Engine
Configure Stream Recording
You can enable and configure stream recording in the Wowza Streaming Engine configuration page.
Within this configuration page you can choose the service where the recorded files will be saved too. Using this setting you can save the files to the same station or a separate on demand or tv station.
You are also able to choose between file formats, versioning options, and auto starting recording.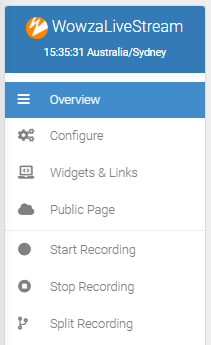 Once stream recording has been enabled and configured you will find new options on the service sidebar. You can use these added recording options to start stop and split your recording.
For more information on video broadcasting and our various features check out the rest of the Video Broadcaster Guide